Lacy's Stiff Stuff is THE premium beading foundation!
Invented and developed in 1996 in Roswell, NM, Lacy's Stiff Stuff is one of the best innovations in modern beadwork. It is vastly superior to the old methods of using index cards, iron-on interfacing, plastic butter-tub lids...it's smooth, won't snag your threads, hold up to washing and weather, always dependable quality. You put your heart into your work--your work deserves the best foundation. Your work deserves the real Lacy's Stiff Stuff!
New Cuff!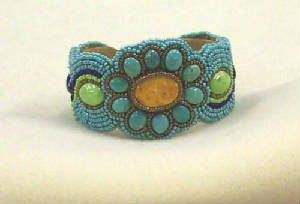 Lacy's
Unlike many other products, LACY'S Stiff Stuff(tm) is durable, easy to bead through, washable, and economical since you can even use your tiniest scraps (check out the SCRAPyards to see how far your scraps can go).
Open up your creativity! LACY'S Stiff Stuff(tm) lets your imagination run free--no waiting for messy gluey layers to dry, no hacking your way through plastic or tough index cards. Cut LACY'S Stiff Stuff(tm) to shape, work with a pattern you can apply with LACY'S Self-Adhesive Pattern Sheets, draw your own design, or just go with the flow! You can glue cabochons on, and work within 20 minutes. You can work your design all the way to the edge and LACY'S won't let you down. It truly is a professional product for your professional results.
LACY'S Stiff Stuff can be easily dyed to match your background, your thread, or your heart's desire with RIT(tm) dyes: Mix 1 tsp. RIT powder to 2 cups boiling water. Be careful: the dye will fizz and boil up. Allow LACY'S to soak in the dye for 60 seconds. Rinse in cold water and pat dry with paper towel. Allow to air-dry. Permanent ink markers also work well, and allow you to change background colors as needed in following your design or pattern.
Happy Jack's Trading Post is home to and springboard for:
Lacy's Stiff Stuff--the Best Stuff to Bead On!
Lacy's Self-Adhesive Pattern Sheets
and
New: Books!
Beading with Lacy's Stiff Stuff--the Best Book to Bead On Stiff Stuff With!(sorry about the grammar)
Lacy's Earring Supplement Vol. 1
"Serving the Southwest since 1977"